Hawaii
This past summer, I went to Hawaii for two weeks. It was never a place that was on my bucket list, but looking back, it's my favorite place I've ever traveled to (which is saying a lot). Why, you ask? Well, I thought I'd write about my trip, and hopefully it lands Hawaii on your bucket list. ✈
My journey to Hawaii, all the way from the East Coast, was long, but my family and I broke it up by stopped in San Francisco, California for the night, before we flew out to Kuaui the next day. We stayed by Fisherman's Warf, and I had the best clam chowder of my life that day.
Bright and early the next morning, we boarded the plane to Kuaui, and, 5 hours later, we landed in paradise. As somebody who loves to travel, I have a little secret that I always use when I travel that keeps me excited the entire trip - I look at the least amount of pictures possible before I go. I knew very broadly what Kuaui would look like from what I'd seen when we booked the hotel and travel plans, but I had avoided looking up specific pictures of the island or where I was going. I know this won't always work, and sometimes I'll have to ignore my secret trick so I can plan my trip, but we'd used a lot of recommendations from friends in planning our vacation, so my trick worked perfectly!
I can confidently say that Kuaui is my favorite place that I have ever been to. You know when people say to 'go to your happy place'? Kuaui is my happy place. From the moment we arrived and began our journey to the hotel, I fell in love with the island, which leads me to my first tip for traveling to Kuaui - get a rental car !! The island has a lot of secret spots that are truly breathtaking, but you can't really get to them without a car. So, if you plan on really exploring the island and all it has to offer, a rental car will be your best investment.
Kuaui is very tropical. A lot of the time, I had to remind myself that I was still in the United States! Kuaui is a beautifully, almost untouched island, and has 1 main road that runs through a half of the island, which is where we stayed. The other side of the island is mountainous, and you can only get there via boat, hike, or helicopter. My method of travel - despite how scared I was - was via helicopter. The best way I can describe the helicopter ride is that it felt like I was on a magic carpet. We floated above mountains where Jurassic Park was filmed, over the dry areas of the island, over the ocean and beaches, and over large land formations. To say it left my family and I breathless is an understatement.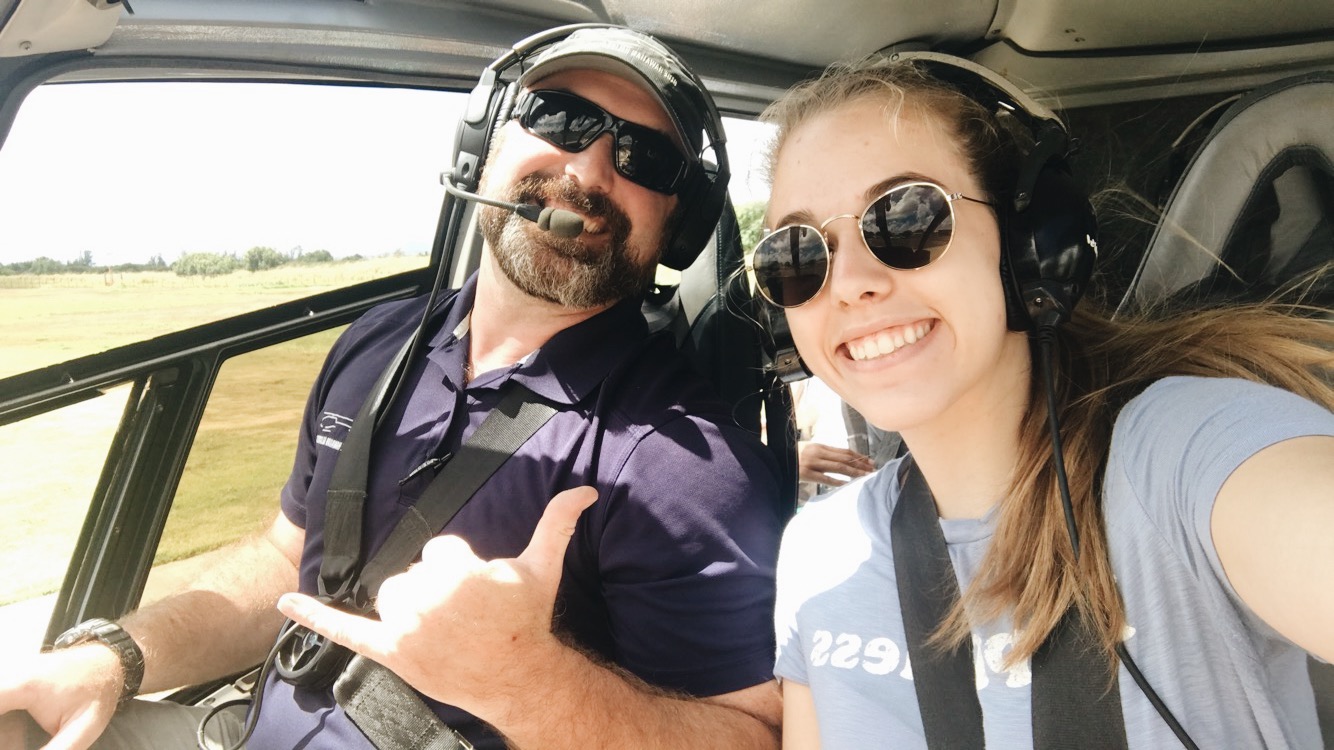 "Kuaui is the best place in Hawaii to take a helicopter tour, hands down."
-my pilot, Shay
Aside from our helicopter ride, we went to a Luau. Yes, a real Luau. Though I can't say the food was the best thing I've ever tasted (sorry, Hawaii), the experience was incredible. The dancers greeted you as you arrived, and gave you a traditional lei. All the guests were invited to shop at some of the venders' stands outside, where they sold items like wooden carvings and jewelry. Inside, they served cocktails, and welcomed you to your assigned seats. When the show was about to begin, they began a unveiling of the traditionally-cooked pig. Then, everybody divided up and helped themselves to the buffet. Once we had all settled back into our seats, food in hand, the show began.
The dancers were beautiful, and as a fellow dancer, I could respect it even more than I'd anticipate most people would. In fact, relatively early in the show, one of the dancers came to my table, took my hand, and made me stand up and dance with them. Don't believe me? Check out the GoPro video I linked at the bottom of this post for proof!! ☟☟☟
The night before we left, we went on a dinner catamaran cruise back to the other side of the island, which was about 4 hours long. It was so peaceful. As an 18 year old, I've never felt less connected to the internet or world back home - I was completely enveloped in where I was, and was the most relaxed I've ever been. It was a complete disconnect, and it was amazing.
Though leaving Kuaui a few days later broke my heart, we were off to Maui, and a whole new adventure. Since Maui is far much more populated than Kuaui, there were more activities for us to do. My Dad and I went zip-lining a few days after we arrived, and, even though my dad was absolutely terrified (even though he'll never admit it), we had the time of our lives. We went with a super diverse group of people, which made the experience even better. We went on 4 zip-lines in total, and the trip overall was about 3 hours, including hiking time from line to line. If you're going to Maui, and aren't too afraid of heights, I would highly, highly, recommend zip-lining; there is no experience like it.
A few days later, we went on a hike. I'm not a hiker, so I really didn't know what to expect. Our guide, however, was a fountain of knowledge. The entire 8 hour trip, he almost never stopped talking, and knew everything about everything. Our hike led to 4 waterfalls, all 4 of which I jumped off of. As we hiked through the jungle together, I was overwhelmed with the greatest beauty I've ever seen - this was the most raw and beautiful experience I'd ever had with nature in it's purest form.
On the plane ride home, I couldn't help but reflect on my adventure. Hawaii was, quite literally, my happy place, and still is. The world is a crazy place, but time seemed to stand still in Hawaii. I'm still trying to figure out how to recreate that feeling of pure serenity.
So, what's my biggest tip about traveling to Hawaii?
Go to Hawaii.
Hey!! Article wasn't enough? Check out my GoPro video documenting my whole vacation below!! xo